Filter Reviews
Length
Fabric
Quality
Colour
Look
Material
Delivery
Dress
Detail
Packaging
Recommend
Match
...
Simplicity
Piece
Wear
Service
Choice
Website
Touch
Communication
Note
Comb
Luna
Veil
Length
Fabric
Quality
...
5 star rating

4 star rating

3 star rating

2 star rating

1 star rating
My Dream Veil
Review by Glennis M. on 22 Feb 2020
review stating My Dream Veil
I looked for the perfect veil for months for my wedding day and finally found it in the barely there Skylar veil. I wanted a long veil that had WOW factor, but was also thin and see-through enough that it wouldn't distract from my wedding gown. The veil arrived in a beautiful box and it was very high quality. I got so many compliments on my wedding day - I felt like a princess. Thanks to the Britten team for all of your customer support and custom making my veil with a 5' extra wide comb in Rose Gold. I absolutely loved my veil, it made my wedding day perfect!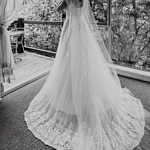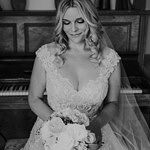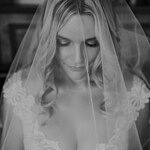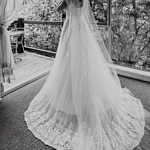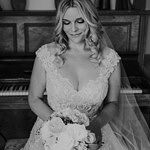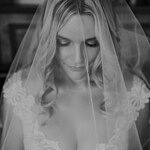 Comments by Store Owner on Review by Glennis M. on 22 Feb 2020
Hi Andrea, thank you so much for your lovely review and sharing your stunning photos with us! We all hope you had an incredible day :) Luna x
Gorgeous veil!
Review by Maria F. on 16 Sep 2019
review stating Gorgeous veil!
I was really dithering over choosing a veil - my dress had a lot of detail on the back so I wanted something subtle, but also something that would hold its own with my dress' voluminous skirts. The Britten online chat was so helpful - I sent a picture of the dress and they advised me very quickly so I could choose my veil, so I finally went with an off white floor length Skylar. It arrived very quickly and the box presentation was really lovely and special. I bought it with enough time to hang up for the creases to fall out - inevitable to have creases with such a long veil - and one thing I noticed was that the comb was really lovely in itself! I think the veil looked good with the dress, adding a little extra pizazz while allowing everyone to see the back of the dress well. Thank you Luna and friends for your help online! x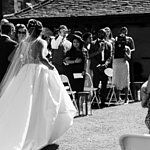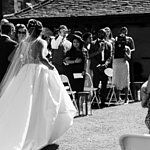 Comments by Store Owner on Review by Maria F. on 16 Sep 2019
Hi Maria, thank you so so much for your review and your pictures - you look gorgeous! Luna x
Very happy!
Review by Karen G. on 14 Aug 2019
review stating Very happy!
Quick service. Pretty packaging and exactly what my niece wanted in a veil.
Comments by Store Owner on Review by Karen G. on 14 Aug 2019
Hi Karen, thank you for your review - that's lovely to hear! Luna x
Elegant and beautiful
Review by Allana D. on 29 Jul 2019
review stating Elegant and beautiful
Love my veil skylar, I was unsure if I wanted a veil, then I found this. It is perfect.
Comments by Store Owner on Review by Allana D. on 29 Jul 2019
Hi Allana, so pleased you chose your veil with us :) Luna x
Beautiful
Review by Lisa F. on 14 Jul 2019
review stating Beautiful
I took my chances and ordered the veil as i wanted a barely there veil but struggled to find one anywhere else for a reasonable price. It came and it is such lovely soft material and a really good quality hair piece.
If i was to get married again ;) i wouldnt hesitate from buying from here.
Comments by Store Owner on Review by Lisa F. on 14 Jul 2019
Hi Lisa, thank you so much for your lovely review - I hope you stay happily married but that is lovely to hear! Luna x
Q: Hello I like the whole outfit here - where is the dress from too?
A: Hi, thank you for your question, the dress is the image is by Katya Katya Shehurina. I hope this helps :)

Sophie x
Q: Hi there - I was wondering if there was the option of adding a plainer comb? I'm hoping to wear a flower crown and the current comb, though beautiful, might vie for attention too much. Thanks!
A: Hi! So sorry for the confusion but the veil in fact comes with a plain gold or silver comb. It's pictured with our 'Elvie' hair vine! 'Skylar' should be exactly what you need by the sound of it but do feel free to give us a call if you are not sure!

Matthew @ Britten
Q: My daughter and I are trying to decide between the Ilona or the Skylar church length veil her dress has lace sleeves , part bodice and a full back of lace so a sheer veil would be perfect She likes the Eva pearl comb can this be used with either veil. Regards
A: Hi Alison, both veils are the same shape and have the same comb attachment - they are just different fabrics so you could try some of our tulle samples to see which one you both prefer! The Eva comb is a lovely choice, because it's on a comb too you would have to wear it upside down so that the combs don't clash, we can always make a bespoke piece for you though so do send us an email if that is something you are interested it! Luna x
Q: Hi!
What is the difference between Ilona and Isabella veil, please?
A: Hi Marta, they are both made from our silk style tulle but the Ilona is cut like our Skylar in the 'barely there' style and the Isabella has a full gather - I hope that helps! Luna x
Q: Hi! I love the colour of the skyler barely there veil on the picture (off white) but my dress has ivory lace.. would you recommend the ivory veil instead of the off white?
A: Hi Fern, I would recommend ordering some of our tulle samples as it's always really tricky to tell what the colours are like on the screen, in person it's much better! x